Mark Müürsoo
July 1
Make extra income by taking tests with Sharewell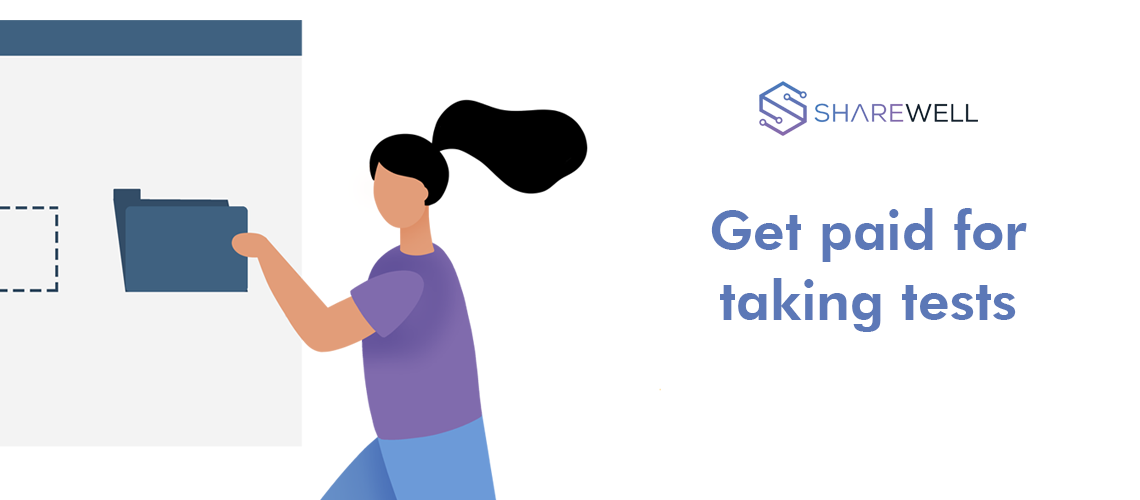 Businesses come to Sharewell to gather data about their customers. People who actually engage in real-world transactions are needed because they will give adequate information companies need.
Tests vary from short 5-minute tasks to much longer, more complex ones. People can sign up, test websites or products and get paid for feedback.
We also help companies find suitable test users if they need people to show up at physical locations. You can read about an example of this from our Lingvist case study.
What do testers get out of these tests? For every test taken, we pay money for test users' time. These amounts vary from the length and complexity of tests. And we don't oblige anyone to take these tests, every single one of our test users can choose a suitable test and time for it.
We don't force any test users to give more than the company needs or ask for their service-benefitting feedback. Making extra income by taking tests is a win-win situation. Companies get the necessary market insight and testers get paid for feedback that they give.
If testers aren't interested in the length, complexity, or payout, you can just ignore the test and find another.
Another benefit of Sharewell is the fact that you don't need to download any programs to take these tests. Everything is web-based.
---
Requirements for test users
Right now, we only look for testers that are older than 18. Because different countries have different restrictions for minors, only adults are allowed to sign-up.
We also wish that all test users who sign up, leave adequate information about themselves, and give us truthful answers when filling out their profile.
Also, we hope that testers actually commit to these tests and try to give their best while sharing feedback, as the information they give to the company is very valuable.
This means that testers should be attentive, take time to understand the questions or tasks that lie ahead, and be sincere when giving answers.
We would like to encourage test users to be honest. So whenever they have any negative comments, they should share those as well.

---
Signing-up and finding tests
After registering an account on our platform, we ask testers to fill out their profile. At the moment, we have 11 main criteria, through which we create a profile. These are mainly demographic: age, native language, education, place of residence (city and country), etc.
The more information testers give us, the better chance they have of getting more tests.
Now you might ask, how do companies find my profile? Well, first of all, companies create tests themselves, and then they set their suitable target audience. Basically, they look for testers that resemble their real-world customers.
For example, if they look for a dad of two, aged 35-40, with a bachelor's degree and who live in a specific country and speak certain languages, the text becomes visible to people who fit these requirements.
The more specific the requirements, the more complete profiles are shown.
If test users are required to show up at a physical location to complete tests in person, we give freedom to planning your appointment. After that, we wish that all test users keep their appointments in mind and show up at the right time. We are always open to rescheduling if need be.
Usually, these face-to-face tests are much more open, and tests/interviews are not that strict. There are no right or wrong answers and any kind of feedback is welcome.
In the case of Lingvist, test users that came to complete their test gave very good insight and even questioned things that weren't related to the test.
Newly available tests will be notified via e-mail. Testers can only see tests that they are eligible for. If nothing shows up at first, we ask testers to be patient.

---
Get paid for feedback: how big are the payouts?
We see that acquiring extra income by taking tests is possible, as we've already had over 1000 test sessions. Longer tests usually have larger payouts, because test users take more time to answer as well as have more complex tasks to complete.
The budget for tests is set by the company, so in these restrictions, they can only get a number of testers to take their test.
After completing a test, funds get added to the test user's balance. If the minimum amount has been achieved and the test user has requested a payout, Sharewell will make the transaction in the next 24 hours.
Test users have great freedom when choosing tests or when giving out feedback. Basically, you can choose what tests you want to participate in.
Right now, we are looking for testers all over Europe (Latvia, Lithuania, Finland, Sweden, Norway, Denmark, Germany, France, UK, Austria, Italy, Spain, Greece, Switzerland) as well as from countries from other continents (USA, Australia, New Zealand).
We haven't set a specific target audience for suitable testers, as real-world customers also vary. In the past, we have had people aged between 18-68 complete our tests and we look to expand this even wider.
If you are interested in trying Sharewell out yourself, signing up and filling out your profile takes only a few minutes of your time. After signing up and finding suitable tests, you are ready to make extra income by taking tests on our platform.