Elita Freiberga
February 3
How to conduct user interviews. Step by step.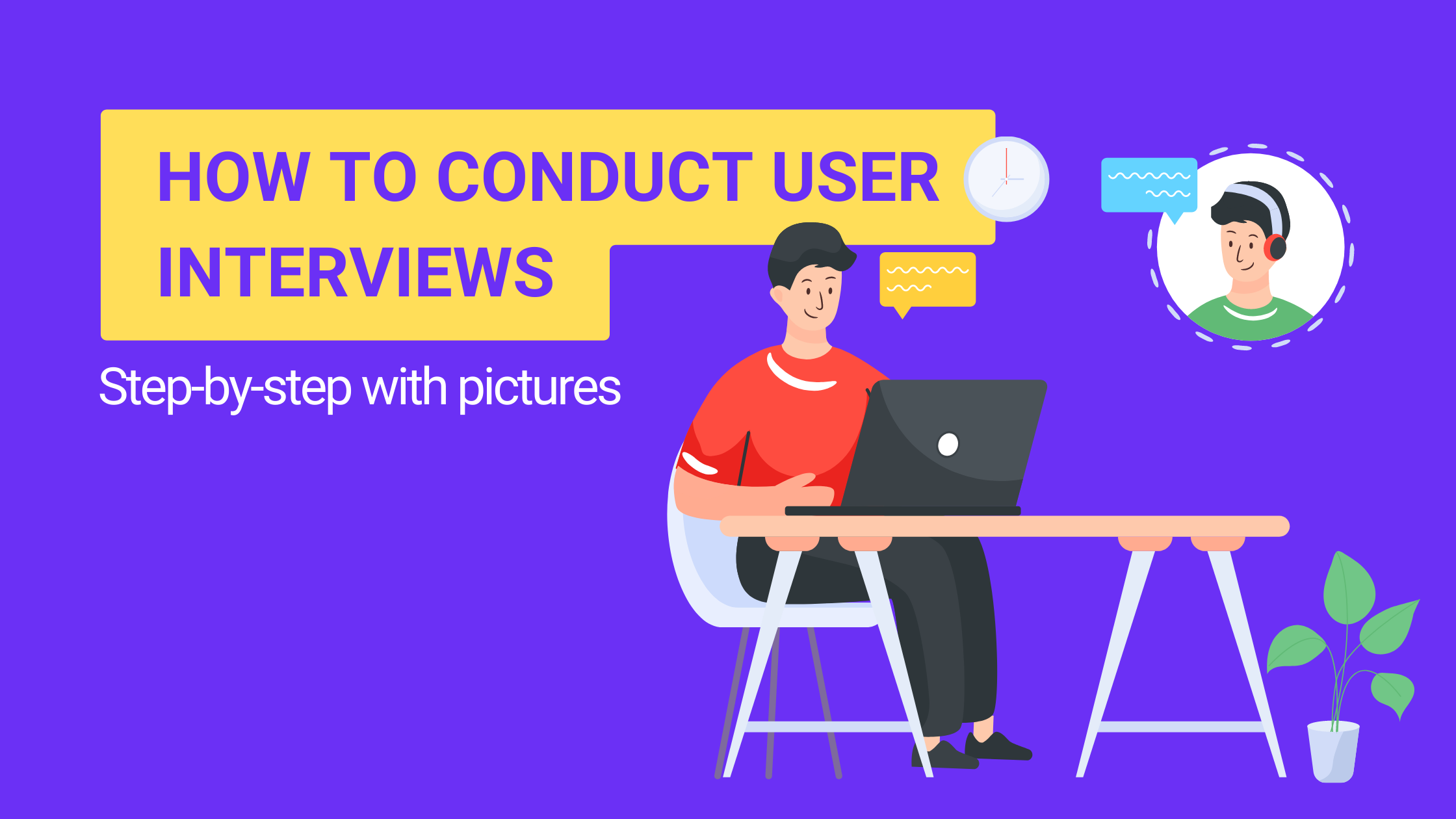 Conducting user interviews is a bit more complex than unmoderated tests, but trust us- you can do it! Moderated test study is an interview conducted by a researcher who gives tasks, asks questions, and observes results. In our experience, it takes around 30 minutes and provides precious feedback that is often used in Lean and Agile environments.
When to conduct user interviews?
User interviews give insights into what users think about the site, an application, a process, or a product. You can learn what needs improvement, get new ideas, what feels necessary, and what is noticeable. This UX research study is done before the design to get insights about user journey maps, new workflow ideas, or persona research. It can also be used to improve contextual active and passive inquiry and at the end of a usability test.
What should you keep in mind when conducting a user interview?
Set a clear and realistic goal. 
Write down what you want to learn to have a clear direction. You need to ask yourself, why are you testing in the first place? 
Create a rapport with the user.
You want your test participants to give the most honest feedback and open up and share ideas and improvements. 
Prepare questions beforehand.
User interviews can be a little stressful also for you. Preparing questions before the interviews will make you more confident and calm. You'll be sure to remember to ask everything you want to know, involve the team in the process and provide users with a good interview flow.
Think about what to do if the user does not answer your question. You have to prepare questions to avoid dead ends and still lead test participants to provide you with the needed information. Let's imagine you want to know what is memorable about online shoe shopping. You ask users to think about some experience of shoe shopping online. If the participant can't recall any at once, you can ask additional questions, like:
-When was the last time shoes got delivered to your home?

-Why did you choose these shoes? 
What is the difference between user interviews and usability tests?
Some of you might be confused about the difference between user interviews and usability tests. While they are similar, there are also differences in how, why, and when they are used. Here are some of the main differences.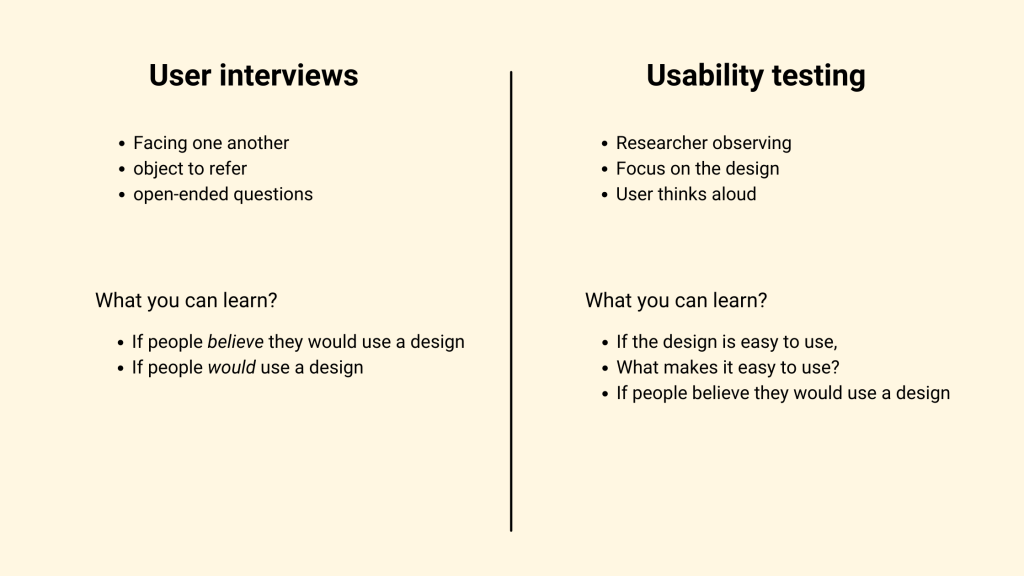 User interview.
No need for a design, early sketch, or working prototype.

Users report their beliefs and perceptions.

Data is self-reported.

Interviews rely on the user giving opinions and recalling events.

The interviewer and user maintain normal eye contact as they would in any conversation.

Moderator has to bond with the user to get information.
Usability test.
Needs a design, sketch, or prototype that the user interacts with.

Moderator observes what users do.

Research is based on findings of what users do and say.

Usability-test can be successful even if the test user doesn't speak much.

Ideally, users perform test as they were on their own.
How to schedule a user interview from scratch?
First, you need to log into your Sharewell account. 
When that's done, on the left sidebar, you'll see a section "Interviews." Click on it! The system will load a new page where you'll be able to revisit your past interviews, check drafts and schedule a new one. To schedule a new interview, click on the big purple button "New schedule."

Under the interview section you can:
Schedule a new interview
View interviews that are
Create a name for the research so you would recognize it amongst others. This won't be visible to the users, and it is for your own reference.
Test speaking the language. 
Choose the language your target audience speaks. If you want to test a landing page for a candy store (as in the example) and the page is in English, choose English. If your page is in another language, select the page/product's language. For instance, if your page is in the Lithuanian language, you want to choose Lithuanian.
In this section, you are describing what you want to test. This text will appear in invitations we send out to testers and can attract them to participate. 
Choose the environment you want to conduct an interview. You can choose the Sharewell app or another. If you select "other," you'll have to provide a specific link that will take the tester to the destination you wish to conduct an interview. For example, you can add a link from the Zoom meeting. 
Scheduling the user interviews.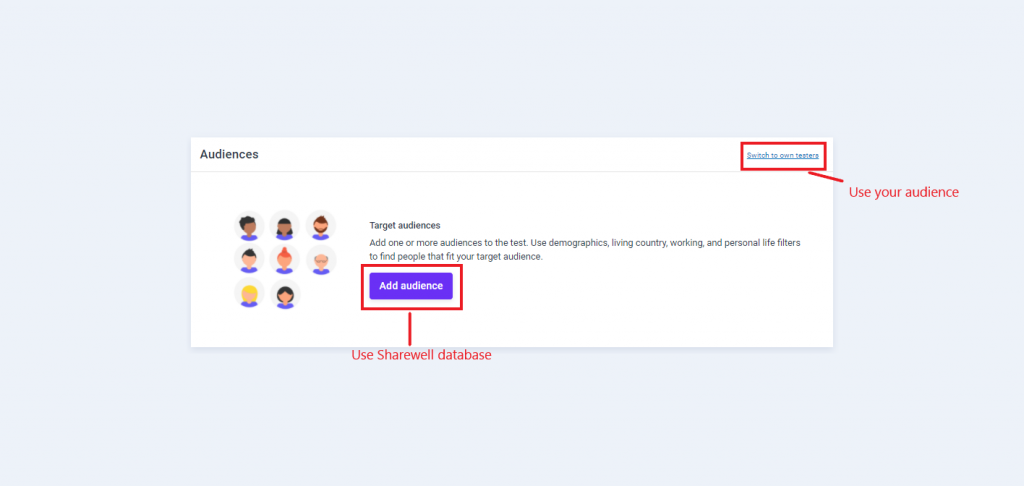 With Sharewell, you can schedule interviews with our testers or use your own database. If you wish to use your audience, click on the button "Switch to own testers." After the test is launched, you will have the ability to create meeting rooms and share the room link with your friends, colleagues, or customers.
Using Sharewell testers database.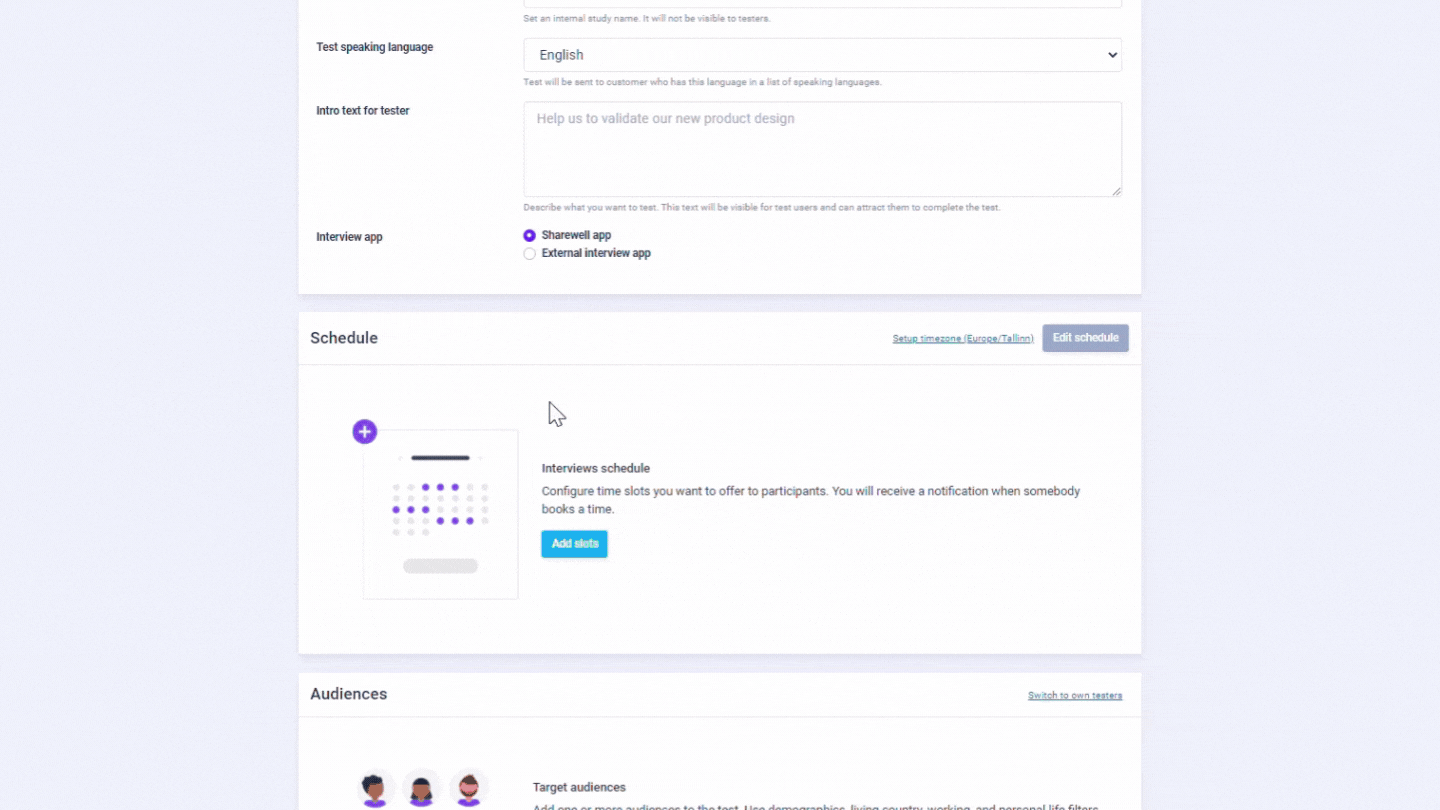 With our simple scheduler, you can choose the best time slots for your team. You can easily set up:
Interview duration (30;45;60;90 mins)

Date and time
NOTE: You can schedule interviews only two days from today. Also, you can schedule two interviews simultaneously, so when setting up time slots, beware that they don't overlap.
Choosing the target audience.
Click on "Add new audience" to choose people who will participate in the interview. You want to have an accurate representation of your users to capture the most realistic responses. Think through whose opinion is the most valuable? Who is the target audience? Who will/ are using the product?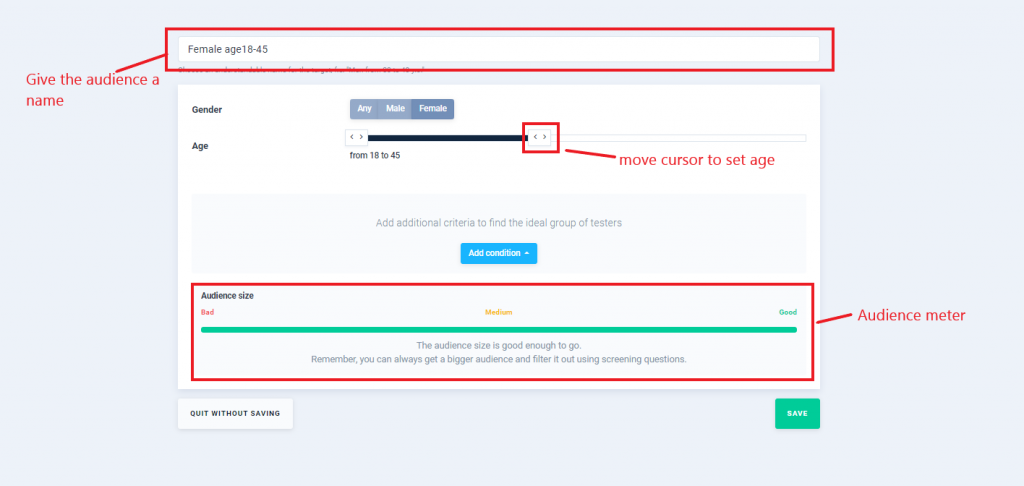 Here you can:
Rename audience

Set gender

Set age

Add conditions for participants like: 

Gender

Age

Speaking language

Country

City

Educational level

Working status

Working industry

Seniority level

Salary

See audience meter. It shows how big is your needed group. If the audience matter is red, the results might take a little longer to deliver. 
When you have set the target audience click on "Save."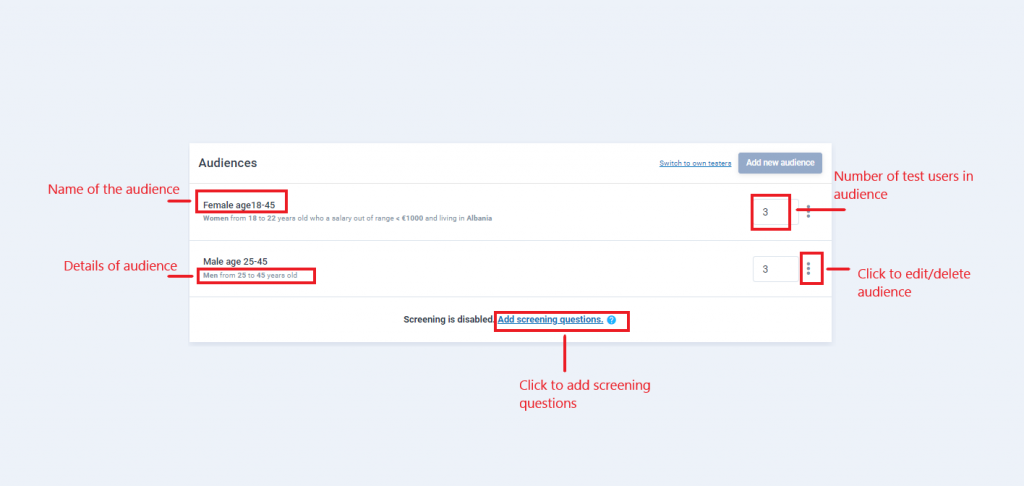 When you have added audiences, you need for an interview. In the overview, you'll see:
Name of the audience (if you don't give it a name, we will set them as Audiance1, Audiance2, etc.)

Details (all conditions you have set for this audience)

Number of test users to recruit

Ability to delete/edit audience settings

Add screening questions
What is a screening question? 
Screening is a set of questions for test users to answer before they participate in a test. You can use it for the pre-filter audience on custom criteria you have set. As in the example for testing the candy store's new landing page, you can ask if they have bought candy lately.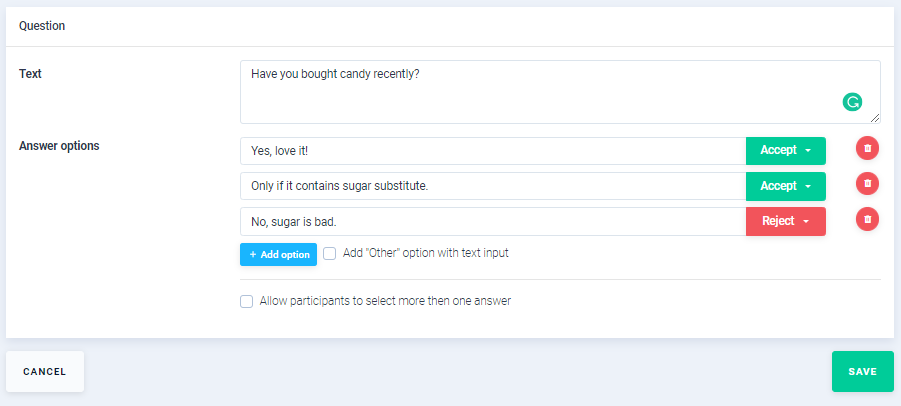 You can set up an unlimited amount of screening questions, although we do not recommend setting up more than 5. The longer a screener is, the less likely candidates will complete it.
Finally, you'll see a recap section with the expanses of the user interview. 
You will receive a reminder email 24 hours and 1h before the interview. Also, you will be notified via email when the test user registers or cancels the interview with the allowance to reschedule.