Elita Freiberga
March 8
User testing for mobile devices. Why and how to set it up.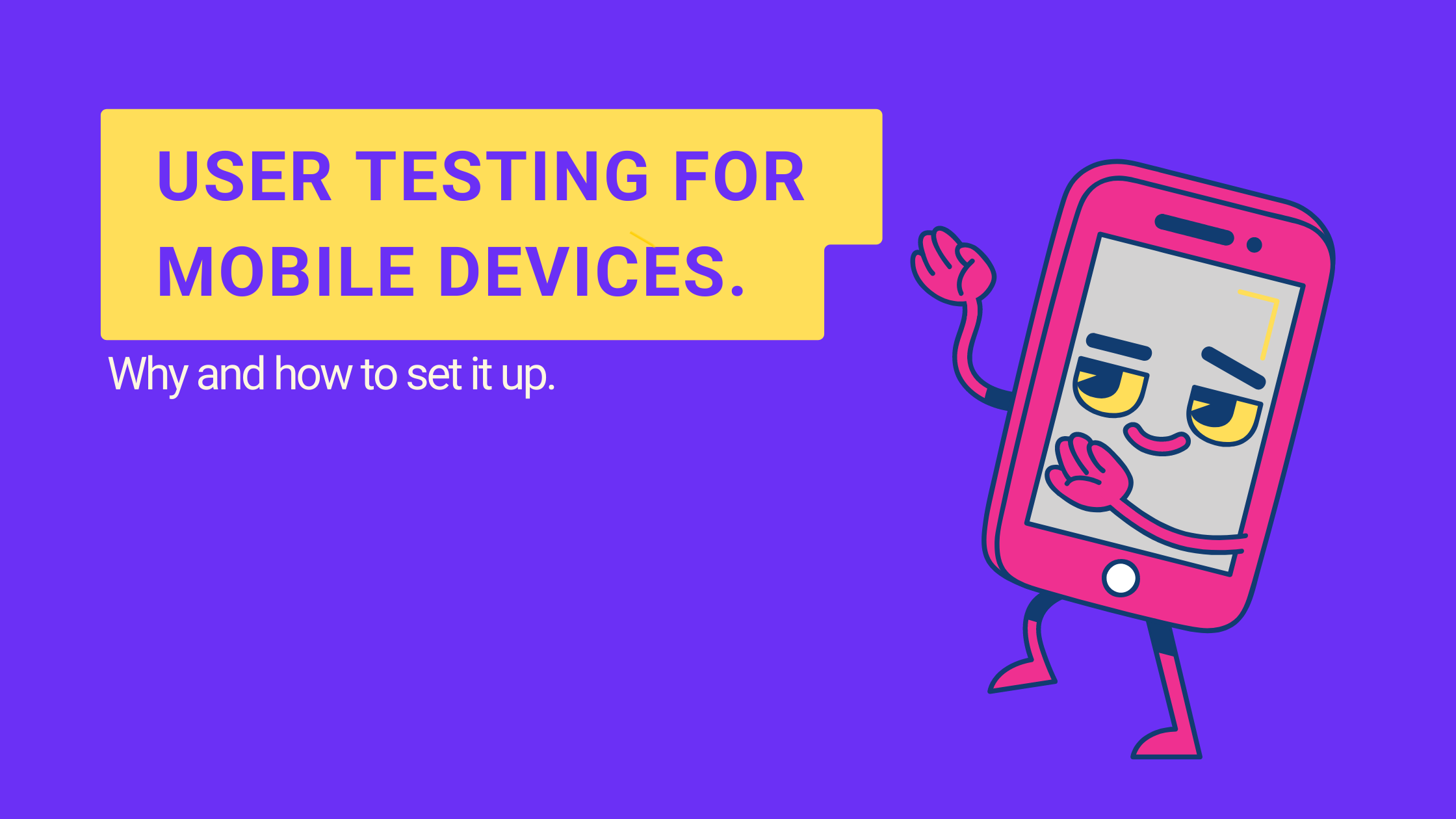 User tests for mobile devices are crucial since around 80% of people mostly use a mobile device instead of a desktop. So it makes sense to improve users' experience while using a smartphone. Stats over time proves the importance of conducting qualitative research for mobile devices.
User testing has taken off in the last five years, allowing businesses to truly understand the behavior of their customers. And mobile environment user testing is no different. In fact, running user tests on a mobile device will give you an even more intimate look at how your customers are interacting with your product.
Now, why should you test on mobile? Because most of your clients access your site or app via mobile devices. The past years have seen steady growth in the number of visitors who use mobile devices compared to computers.
Mobile user testing stats you want to know: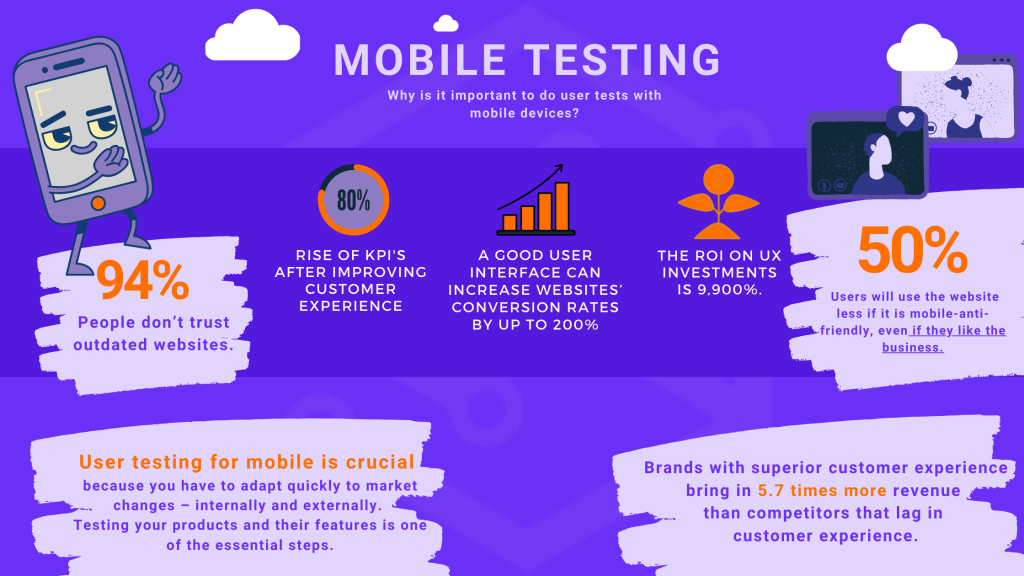 50% of users will use a website less If a website isn't mobile-friendly, even if they like the business. (Think With Google)
48% of users are annoyed by bad mobile optimization. (Think With Google)
48% of visitors say that a website's design is the most crucial factor in deciding the brand's credibility. (Sagipl)
68% of users have given up on a particular brand because they think that the company doesn't care about them. (Uxeria)
Better UI could increase your website's conversion rate by 200%, and better UX design could increase conversion rates by up to 400%. (Forrester)
94% of people don't trust outdated websites. (MyTechlogy)
Benefits of testing in mobile development:
User testing saves resources and time.
We cannot stress this enough- doing user tests BEFORE you have a ready product will eliminate that you have to redo the whole project. User testing lets you verify that the users are using your product properly and that the features are easily accessible. It is much wiser to invest in user testing than in an unsuccessful finished project. 
The test can reveal: how long it took for participants to complete the task, if they had any issues, and how many steps it took to perform it. With this information in the head, you can upgrade your navigational process to provide an easier and quicker way for your users. 
People demand comfort more than ever. User testing allows you to uncover user frustrations.
Obtain a competitive advantage.
You already know that there is a lot of competition out there. You have to go the extra mile to get your customers to choose your product over another. Investing time to optimize the user's experience will pay off.
Conducting tests with your actual users, friends, family members, or colleagues might be cheaper than using Sharewell, but you'll luck to obtain unbiased opinions. Because they have already used or heard something about the product before can influence how they perform tasks and how much information they will share with you. 
How to set up a user test for mobile devices?

Setting up user tests with Sharewell is simple and takes only a few minutes if you have prepared a plan. When you've logged into your Sharewell account, choose to create a new mobile test. Then you'll be directed to the test settings where you can:
Add a study name
Choose test speaking language
Fill intro text for testers
Create a test plan
Target audience
How to send test invitations only to a specific device/mobile?
You'll be surprised by how easy it is to target the right audience with Sharewell! Let's say you want to reach people who only use Android and see how they interact with your product. 
Go to the "Audience" section and click on "add screening questions": 

There you can enter an additional set of criteria for your test audience: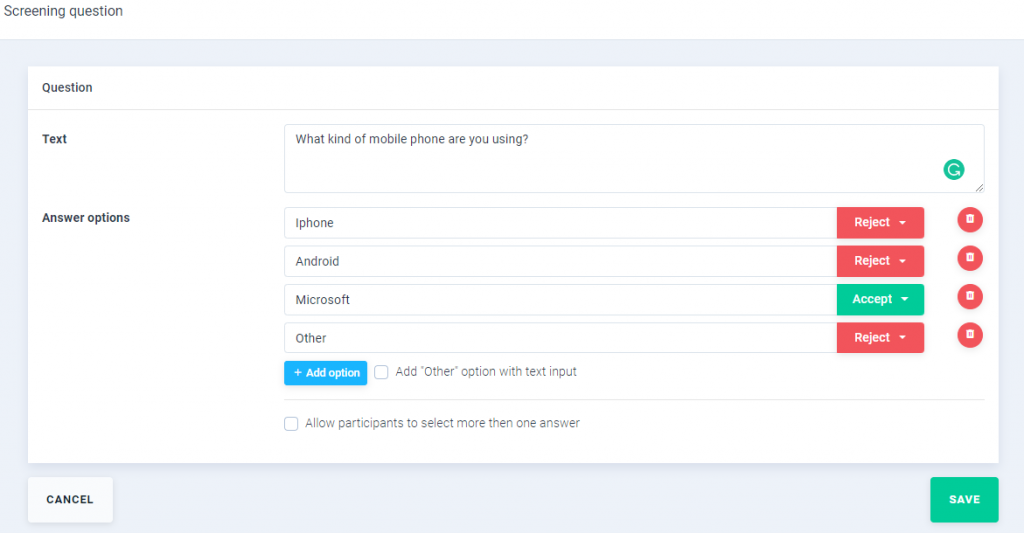 NB: Now, you can also set a test for mobile devices with your own audience. 
Once you've set all the test details, launch it and wait for the results! On average first results will be delivered in 4 hours and full results in 24 hours.