Mark Müürsoo
September 23
New user testing environment and platform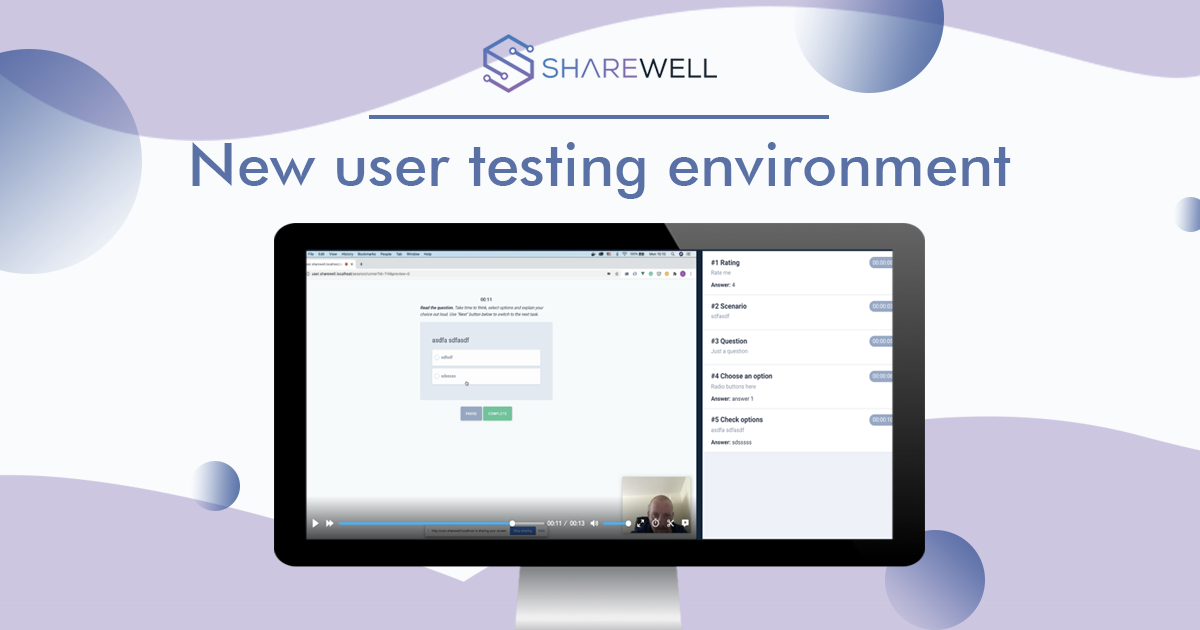 Sharewell has developed a set of new tools and made adjustments to our user testing environment. The new upgraded platform will offer more opportunities to run smoother tests and make the experience for both the tester and the test creator more comfortable.
A lot of these updates and additions come thanks to the users of Sharewell. Testers have given us feedback on how to make task completion easier. Test creators, on the other hand, have asked for a multitude of tools to be added, most of which we have added with this -update.
Some previous options have been removed entirely. For example, we have removed the Desktop / Mobile selection from our test building tools. We feel that our mobile emulation is too simple for real testing and there is no point to support it at the moment. Our efforts will be concentrated on desktop testing.
We have made additions to the test runner, the test builder and also the test session page for clients:
NEW USER TESTING ENVIRONMENT
Tests are now running in the full-width window. We had complaints about testing websites in the tablet mode, as the test runner only covered 70% of the screen. Instead of using side-to-side panels, this new feature now allows real user experience testing to avoid triggering different breakpoints like tablet or mobile markups;
Any text areas for answers have been removed. Testers can now provide answers in the form of video or audio. This allows us to provoke the tester to speak out loud and think about their answers;
Final videos from the original content now have better quality, while also spending fewer resources (we updated our tech stack behind recording).
NEW TEST BUILDER TOOLS
URLs have been added to every scenario, instead of using one global URL for the whole test. This means that you can build your test with several other URLs and running different scenarios during the test is also easier;
Tasks now have more alternative to choose from. In addition to default scenarios and questions, test creators can now also create tasks with ratings.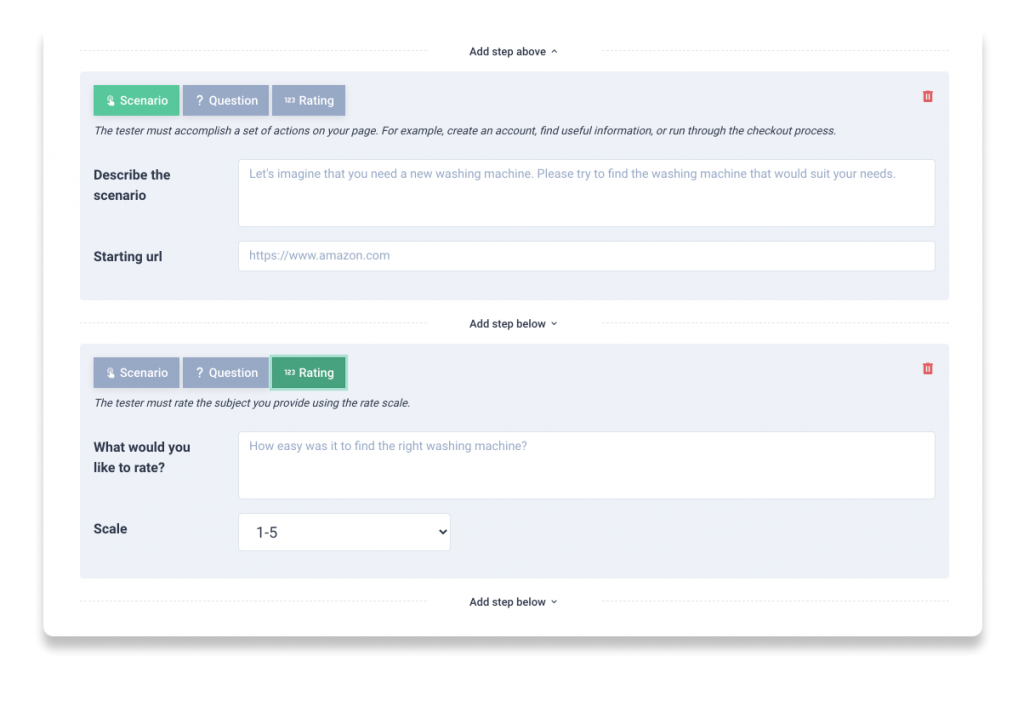 ADDITIONS TO THE VIDEO PLAYER
You can now access timestamps related to specific tasks in our video players. Jumping to a task in the video can be very beneficial for processing the sessions by task;
The new video player also allows clip creation. You can now cut out any necessary clips from the session;
Notes and comments can be added throughout the video as they are now attachable to specific timestamps as well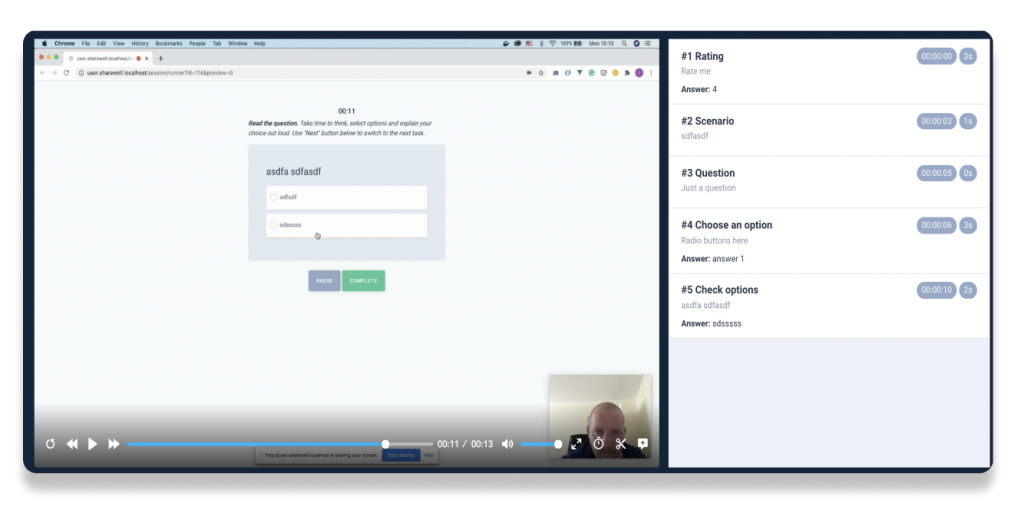 CHARTS AND REPORT BUILDER
Charts have been added to the session summary. This allows quantitative information to be aggregated and you can get a simple overview on testers, their answers and test results;
The new report builder enables teammembers to combine information into one sharable document;
Video clips and notes from sessions can be added to the report document as well;
Created reports can easily be shared amongst colleagues or clients by link.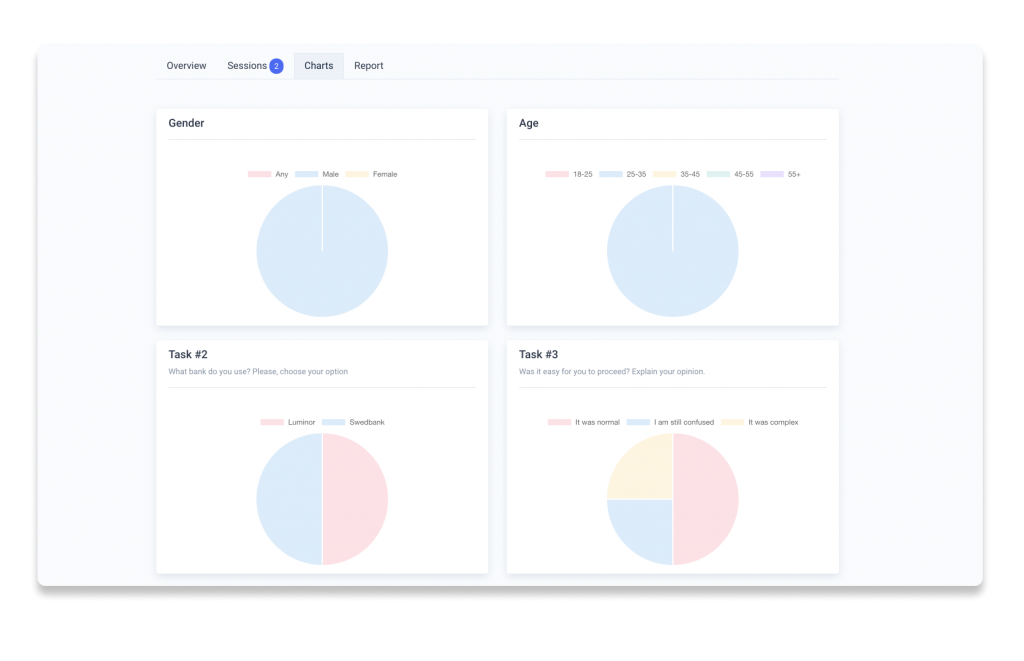 These new updates have already been added to our platform. On top of all the tools mentioned, we have also made it possible to reject sessions. This means that test creators can deny any unsatisfying sessions if they deem those tests unfit. This has been added for situations where participants don't provide enough feedback, even when they complete the tasks. Rejected sessions are refunded automatically and they won't appear in the invoice.
Feel free to try out these new additions yourself. We also provide a 14-day free trial for any newcomers to test out our product., though it does not include tester hiring.